---
---
---
---
Bringing Content Strategy to GoPro
Content Strategy | Content Development
After ten years dominating the action camera market, GoPro turned its sights on software. I was hired onto the User Experience Design team to integrate content strategy into the software design process from the ground up.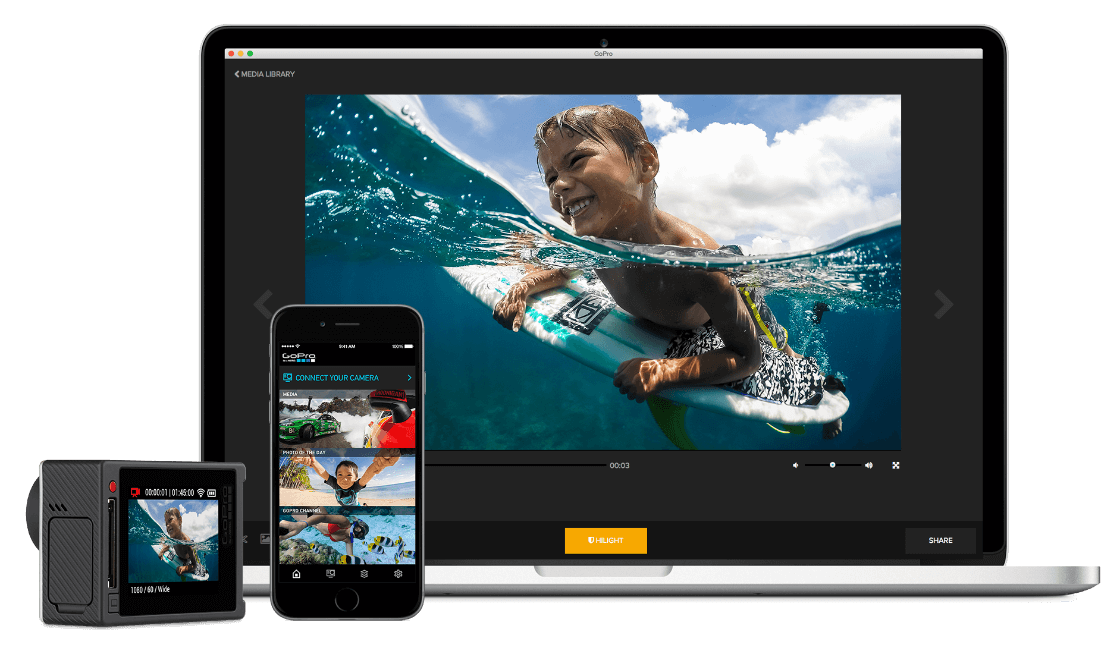 As Senior UX Content Strategist in GoPro's design group, I help product managers and designers apply a content strategy lens to the software design process, and collaborate with engineers to develop the infrastructure and workflows needed to scale the creation of interface content across our core apps. This includes:
Collaborating directly with product and program managers, UX designers, design researchers, and engineers to define product requirements and design the best user experiences.
Building a team responsible for the user interface copy in our mobile, desktop, and web apps.
Implementing content standards and guidelines, systems architecture, and process
improvements to drive productivity and quality, and empower individuals and teams.
Fostering cross-organizational partnerships to reduce friction, align departments, and increase quality of products and services.
---
Rich Content Builds Social Impact Careers
Content Strategy | Content Development
Students and professionals visiting netimpact.org are looking to make a career transition with more meaning, but don't know where to start. I helped design a variety of content that's accessible across platforms, and provides the visitor a self-guided path tailored to their particular skills and interests.
---
---
Rich media brings career opportunities to life
Net Impact's visitors are on-the-go students and professionals, who are torn between limited time and the desire to make a positive impact. Working closely with our program team, I helped translate focus group research into the online Career Center, featuring how-tos, member success stories, and other content that helps visitors identify the path that's right for them. Stories from the Field, for example, is a series of video shorts embedded throughout the section and shared across social media that brings member narratives and advice to life.
Repurposing content and making it shareable
Looking to unlock the valuable and often evergreen content buried within an archive of old webinars, I developed a slideshow series highlighting key takeaways from each call. By repurposing existing content and adapting it to a more accessible channel, Net Impact is able to reach more changemakers and call attention to complementary programming. My role in Net Impact's career curriculum included conducting focus groups and online user research; interviewing, writing, and editing stories; front-end design, video production support, content strategy, and more.
---
Teaching the Fundamentals of Beer
Content Strategy | Curriculum Development
---
You'd think teaching people about beer would be simple. But beer comes in hundreds of styles and offers almost as many myths – so Four Points by Sheraton needed to elevate the product
without
alienating servers and guests.
Contracted by WineQuest, a leading hospitality training company, I developed a flexible curriculum that teaches Four Points servers, bartenders, and managers everything they need to know about beer. Courses cover everything from history and production to storage, styles, and flavor.
Guest-facing content also included a user-friendly beer menu. Adapting WineQuest's signature "progressive wine list" format, we were able to develop a flexible menu that's easy to navigate for beer beginners and experts alike. The result? Better beer sales, more informed servers, and happier guests.
"It's amazing how much I thought I knew. Now, I can definitely make a more educated suggestion to a guest, as well as try something new myself."
---
Need some help producing great content?
---
Building a Brand with Editorial Strategy
Editorial Strategy | Social Media Strategy | Content Development | PR
The editorial strategy I created while at Net Impact brought nearly a dozen digital channels into alignment, created a coordinated brand voice, and expanded the organization's reach by the tens of thousands.
---
Telling a unified story across channels
Like many nonprofits, Net Impact struggled with disjointed and uncoordinated messaging. As senior manager of our digital channels (multiple social media accounts, an active blog, an email list of 40,000+, earned and placed media, and numerous content channels like Vimeo, Slideshare and, of course, netimpact.org), I knew we needed a formal editorial strategy.
I implemented new systems to identify year-round editorial themes, translate them into a manageable day-by-day editorial calendar, and produce high-quality content appropriate to each channel (read more about my process). Over time, individual communications became the building blocks of a cohesive brand story, ensuring the public encounters a consistent voice and message that feeds into their experience of the Net Impact community whether they're reading an e-newsletter, viewing a Net Impact follower's retweet, watching a video, or using Net Impact's programming to start a Green Team at work.
Measuring engagement
With these efforts, Net Impact's social media reach grew by 47% and those channels drove 58% more web traffic to netimpact.org year-over-year. By focusing on meaningful indicators of engagement, we were able to identify what kind of content drew visitors in and use that to develop appropriate material (such as practical tips and emotionally-driven success stories) for our email and blog channels. In fact, the original stream of content I developed for the blog kept visitors on netimpact.org twice as long as the site average.
This kind of engagement has the benefit of deepening members' relationships with the organization, making people want to talk about their experience. One small example came at the 2012 Net Impact Conference, when our social media efforts paid off as thousands of #NI12 attendees flooded Twitter and got this popular sustainable business event officially trending by the end of the weekend.
---
Making Graphic Design Sustainable
Brand Strategy | Content Strategy | Content Development | PR
Less than a decade ago, there were few resources for designers interested in environmentally-responsible graphic design. As partner and content lead of Re-nourish, I was involved in strategy and planning, research and content development, and PR and social media outreach.
---
Balancing research with reality
Re-nourish quickly became the go-to resource for reliable sustainable design best practices, known for making an often-heated subject accessible to designers of all experience levels. We did this through balanced writing, honest behind-the-scenes conversations with working designers, and focusing on transparency and disclosure.
In addition to leading PR and social media efforts, my role as content lead had me developing case studies and interviews, interaction and help text, blog posts and press releases, and more. I also helped develop Re-nourish's tiered project and studio standards, and provided UX support for the Project Calculator and Paper Finder tools.
Recognition
Award of Excellence: 16th Annual Communicator Awards, 2010
Finalist, Cooper Hewitt People's Design Award: Smithsonian National Design Awards, 2009
Third Place, Sustainable Organization, AIGA (re)Design Awards, 2009
"Designing Change: Re-nourishing Sustainability" by Jessica Kuhn, HOW Design, May 2010
"Top Ten Sites for Designers," HOW Magazine, 2010
"Accounting for graphic design impacts," Sustainable Industries, November 2010
"Re-nourish the Design Industry" by Zara Arshad, Notes on Design, November 2010
"Graphic Designers Team Up to Measure & Reduce Impacts," GreenBiz, October 2010
Web Pick of the Week, Communication Arts, 2009
---
Creative Direction
---
---
Sustainable Supermarkets
Reduced raw materials use by: limiting print run, maximizing the press sheet, and specifying 100% recycled paper (interior: 100% PCW; cover: 50% PCW).
Reduced toxic chemical use by: printing with soy-based inks, using a certified green printer, and specifying chlorine-free paper.
Saved the following natural resources: 5 fully grown trees, 1,865 gallons of water, 3 million BTUs of energy, 215 pounds of solid waste, and 420 pounds of greenhouse gasses.
---
---
---
Have a project you'd like some help with, or need a resumé?